History
In June 1959, four couples got together to form the Sutton Coldfield Scottish Country Dance Society. In 1982, the society had increased to over 80 members and then became a branch of the Royal Scottish Country Dance Society. Our current membership includes dancers from the areas around Sutton Coldfield, including Lichfield, Walsall, Solihull, Tamworth, Burntwood, and other surrounding areas.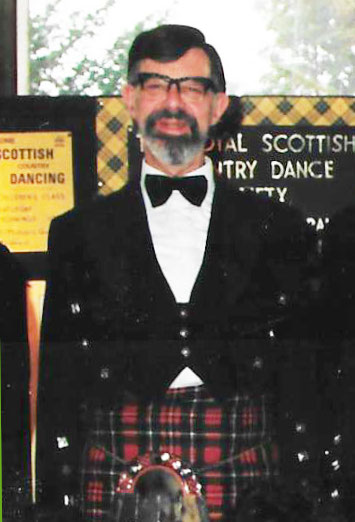 In 1984 we produced our first of three records for our 25th anniversary "Something to Celebrate" with George Meikle and the Lothian Band. Our teacher at the time, Barry Priddey, in his lifetime devised 14 books of Scottish dances, perhaps the most well known being Flight of the Falcon, Singing Sands and the Kelpie. In 2005, one of Barry's dances "Sands of Morar" was included in RSCDS book 45. Barry also started the Sutton Coldfield Index of Scottish Country dances in collaboration with George Meikle.
After Barry's death in 1996, George, with the assistance of Carol Anderson, carried on his good work and produced regular updates - at present the Index contains references to, and information on, more than 15,000 dances.
Barry was not one to put himself on show, and the picture comes from a rare group photo, taken in 2000 at Halsey Manor.
A fuller appreciation of his contributions to Scottish Country dancing is here: